A wide range and large number of shelters were built before and during the Second World War to protect those living and working in an equally wide range of buildings. This webpage contains some information about shelters that have been brought to my attention other than standard Anderson, Morrison or deep shelters. There is lots more information on the web.
Biddenham, near Bedford
This substantial concrete shelter is currently being excavated. The nearby house was built in 1939 so the owners probably paid the builders to carry out some extra construction work.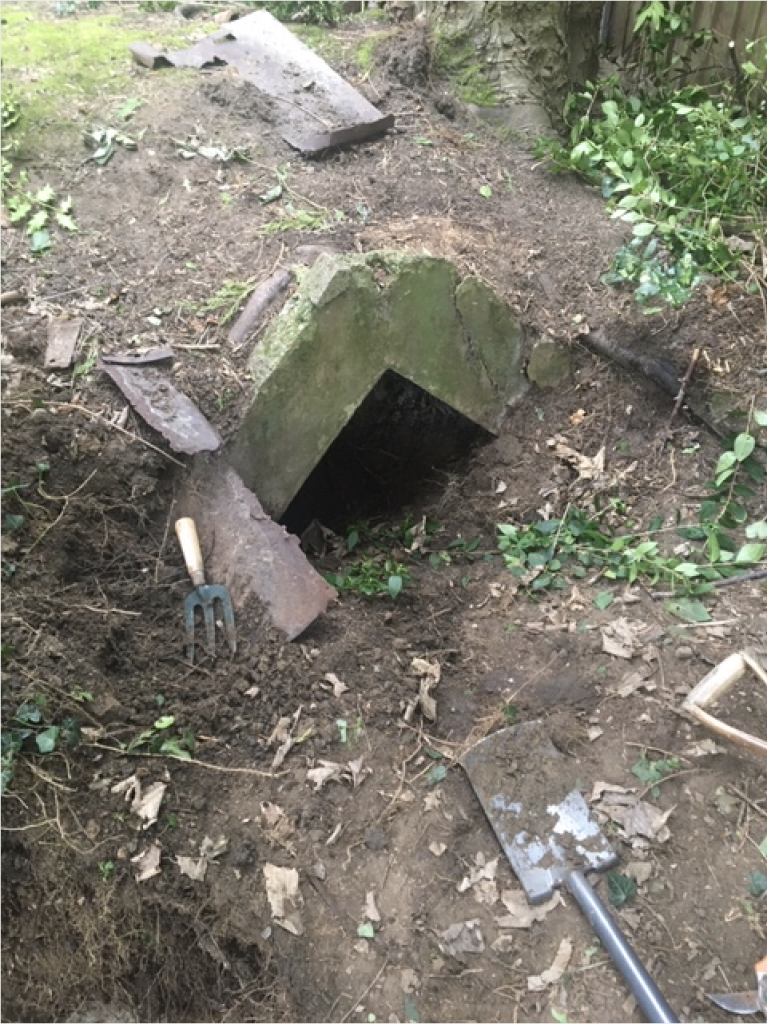 Cardiff
Here is an impressive corrugated iron Anderson shelter, built entirely underground and since lovingly restored by its owner, who has fitted a new ladder and hatch.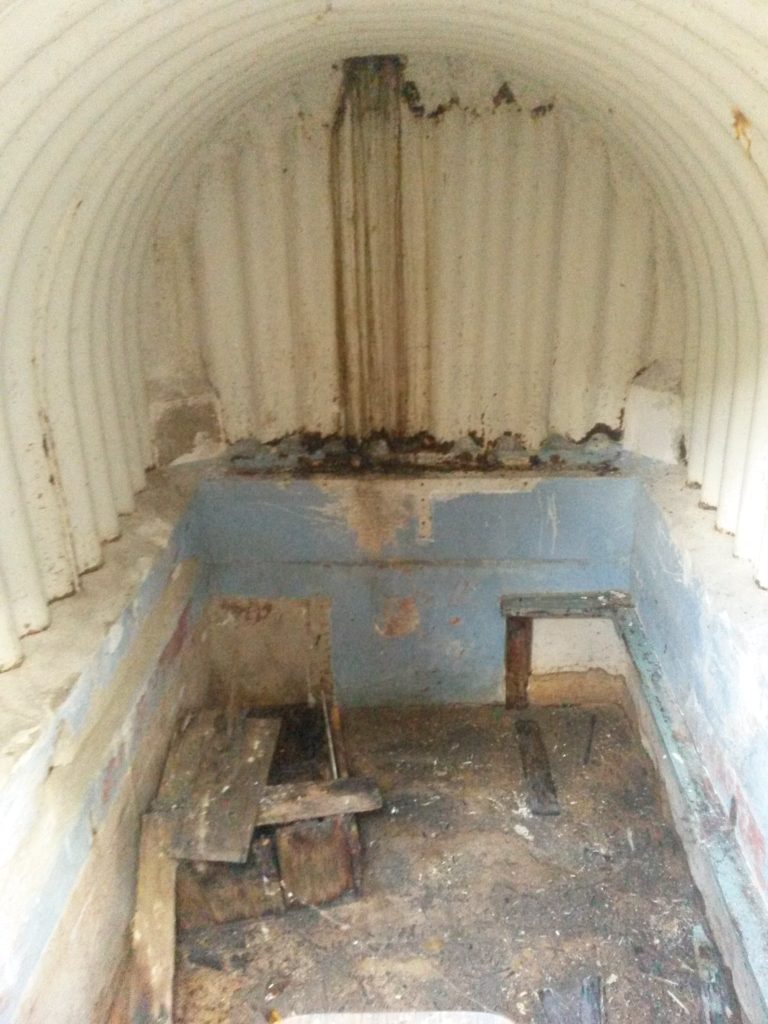 Croxley Green
This document tells the fascinating story of the excavation of a concrete shelter in Barton Way. It is believed that every block of terraced houses along that road had one of these but this may be the only one that hadn't been filled in over the years.
Ealing
This one is a real puzzle – a normal Anderson shelter (without its two ends), but built in the cellar of a house.
Maybe the owners of the house during the war decided that they would be safer in their basement than in a shelter in their garden, so they used their council-provided corrugated iron to build their shelter in their basement instead of in the garden? Alternatively, they bought the structure after the war and erected it in their basement, but I can't think of any good reason why they would want to do so.
The steel features very clear Merino manufacturer marks.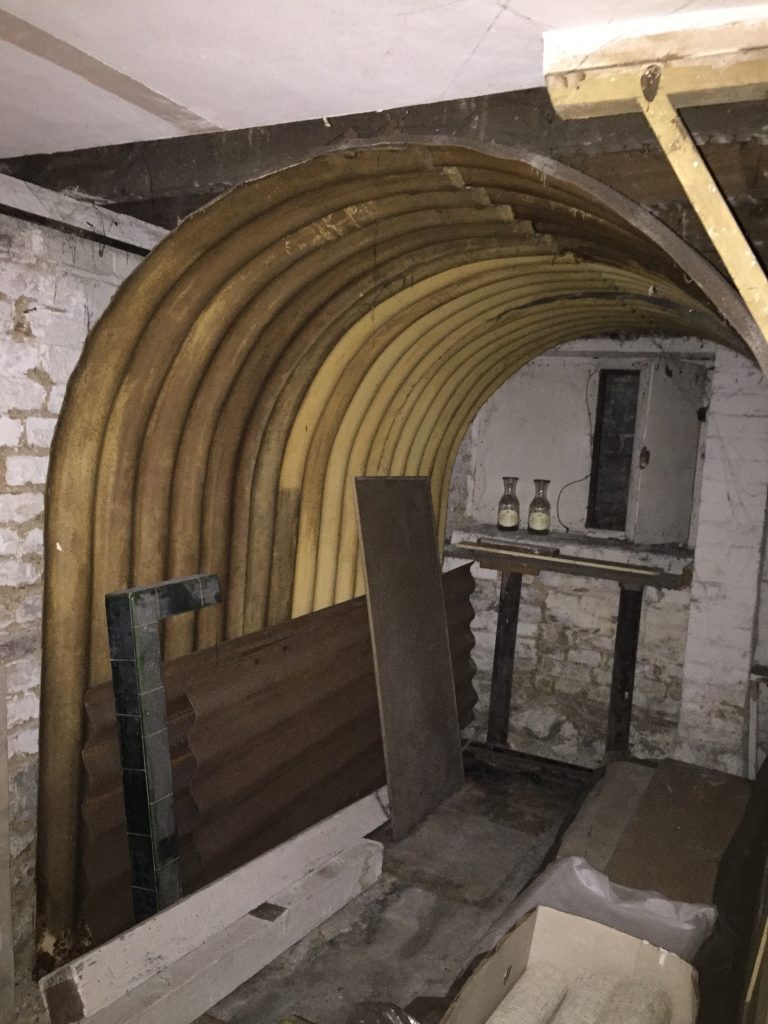 Ivybridge, Devon
This is now a pretty shelter, mainly built with concrete and stone. but with a corrugated iron roof.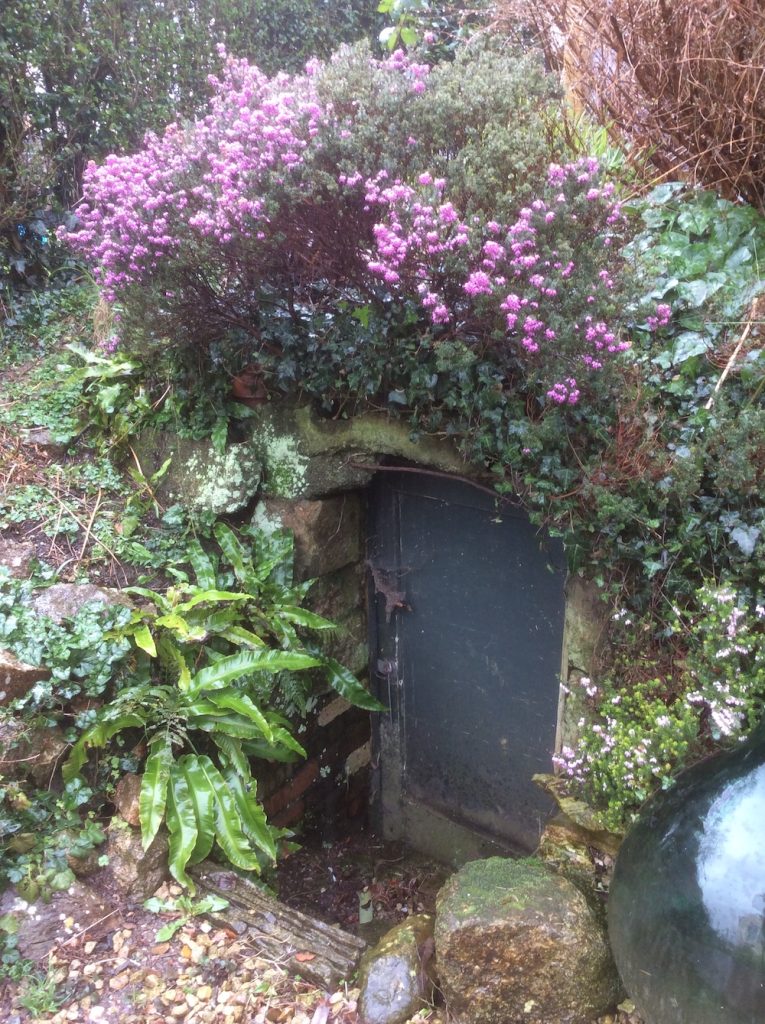 Langley, Bucks
A rectangular concrete shelter.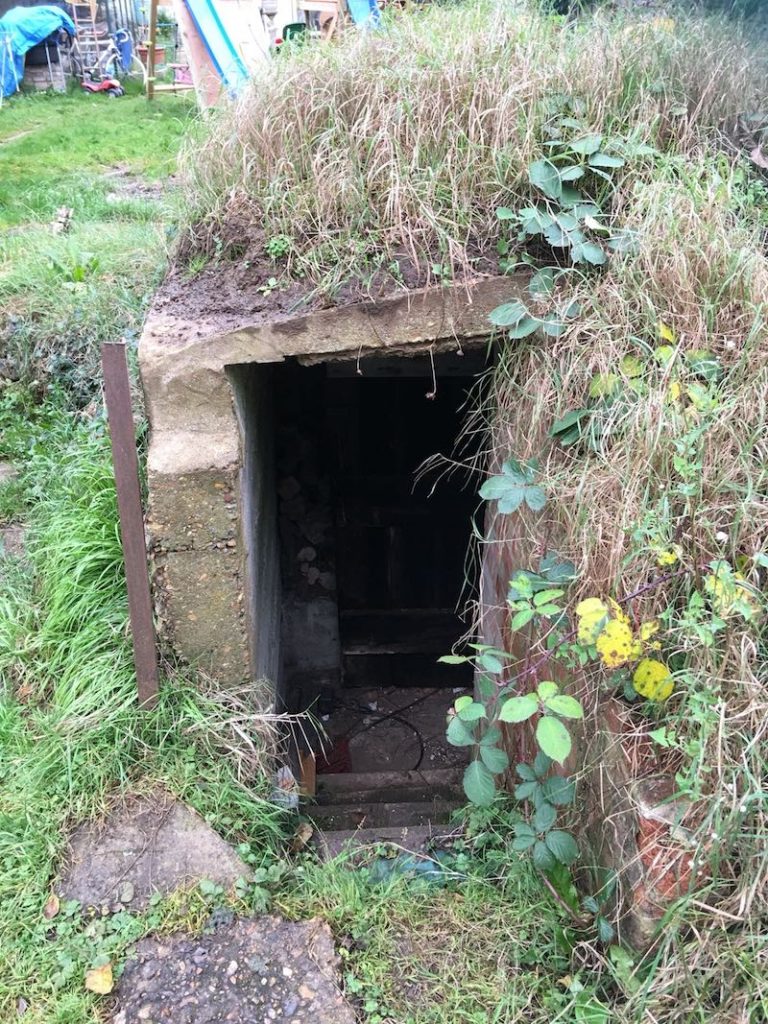 Loudwater, Hertfordshire
Here is another interesting one. The nearby house was built in the 1930s and an Anderson shelter appears to have been specially built within a thick concrete shell. It was subsequently used as a wine cellar – hence the thermometer.
Nottingham
This is a very characterful shelter, used as a composter and built into a hillside in Sherwood, near Nottingham, which is no doubt how it has survived to this day.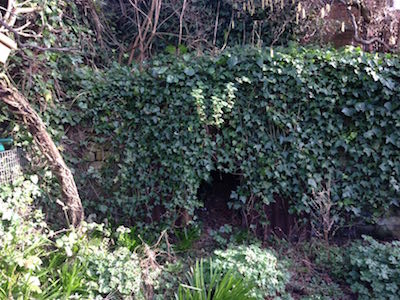 Plymouth
Steve Hamm of TM Builders kindly drew my attention to this interesting structure in the basement of a late-1800s house they were renovating
Steve thought that the building was originally built to house one family, with probably a housekeeper. The basement looked like it contained a kitchen, and what he could only assume were laundry facilities, due to the drains in the floor. The 'shelter' room, has a coal hole, accessed at street level, and had the remains of a hearth for a water heater. The coal hole would provide a means of escape if the main stairs were blocked.
The corrugated iron sheets were double-skinned and were all Home Office approved – hence the Merino makers marks. They were held up by five RSJ's, which were sunk two feet into the wall at the ends. These RSJ's were in turn, supported by cast iron posts. It was certain that the shelter was built with a lot of care as the garden would have been too small for an Anderson shelter, being just a small back yard.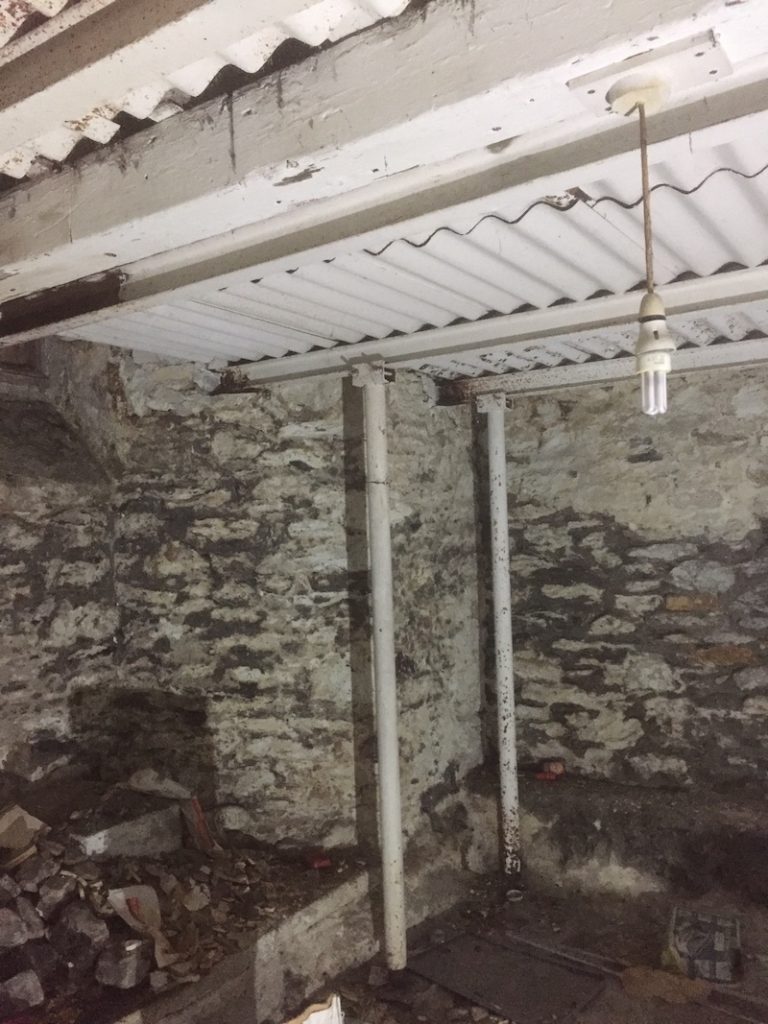 Poole
Several of the shelters that have survived in their original location appear to have done so because they were set in concrete. This will have reduced damage from rust, but it also made them much harder to remove, and so helped them survive until the present day.
This shelter used Anderson corrugated iron set into brickwork, not concrete, and this, plus the fact that it was covered in concrete and earth, also no doubt led to its survival for so many decades.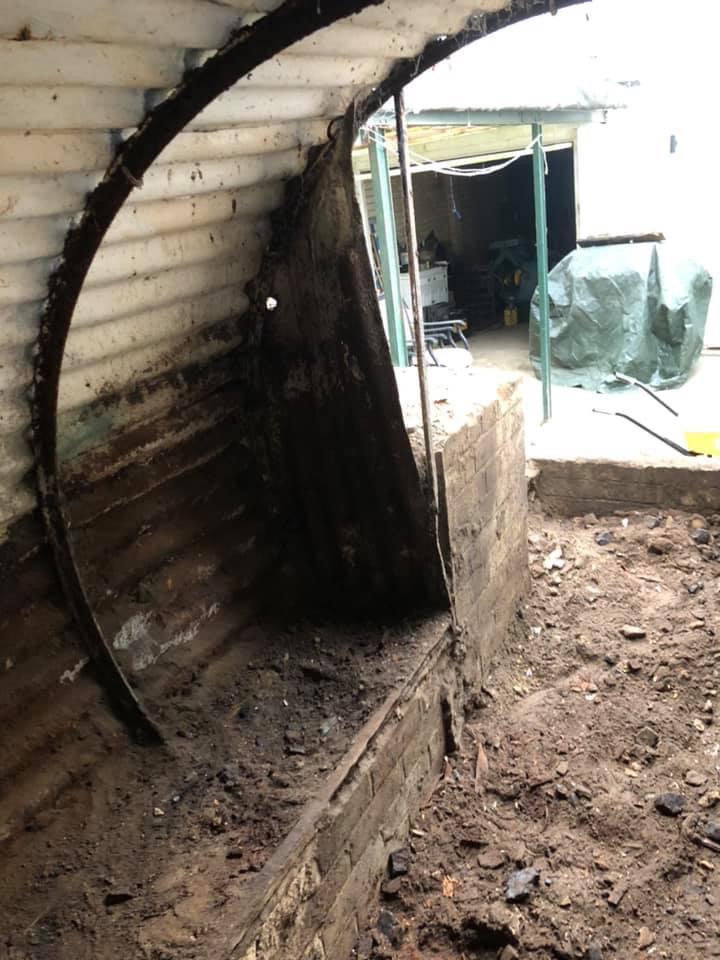 Southampton
Graham and Lizzie Hendra found this shelter in 2016 after they had brought in a gardener to remove a mound of earth at the end of their garden in Bitterne. Their house in Glenfield Avenue was built in 1922 and they had lived there for six years before discovering the shelter. It looks to have been very well built. The concrete cap may have been added by a builder who wanted to ensure the safety of his family during the war. Their cat certainly appreciated having a new space to explore.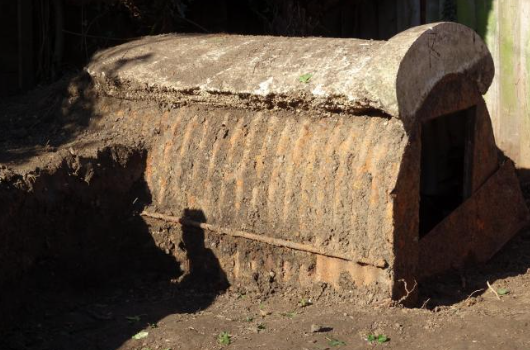 Sadly, this shelter has since been removed from this garden.
South Croydon
This is a very impressive shelter refurbishment. The shelter is not set in a trench in the garden. Instead, as the garden slopes uphill, the shelter is partly set into the hill with decking above it. The shelter has been supplemented (in more recent times) with a brick archway and some retaining walls at its entrance. The escape hatch at the back of the shelter is especially clear.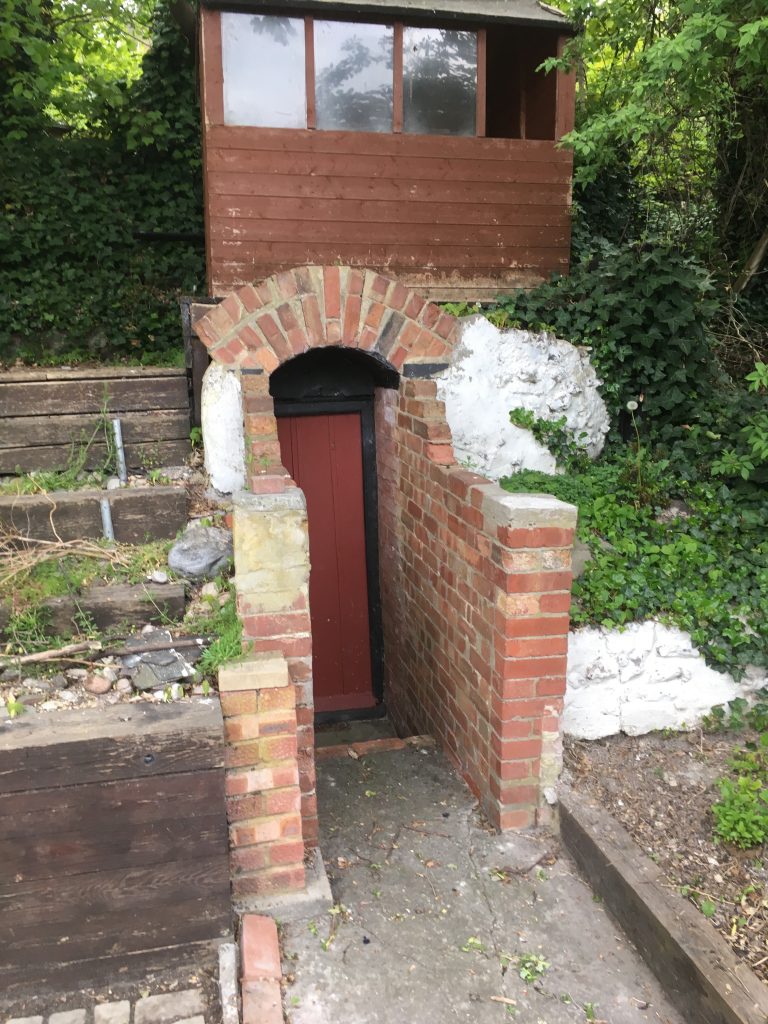 Wakefield
This large custom-built shelter in Wakefield, Yorkshire, had a heater at one end with its own chimney. It was used very a lot during the war as there were frequent bombing raids on the munitions factories in nearby Leeds. After the war, the soil that had been heaped on top of the shelter was used to form the base of a rockery.
Someone who grew up in the house, and whose father built the shelter, recalls: "We used to dare kids to go down into it, and we would then howl down the chimney. They came out faster than they went in."
Wolverhampton, West Midlands
The house was built in 1939, at the beginning of the war, so it made sense for the owners to have a strong concrete shelter built in their garden, some distance from the house.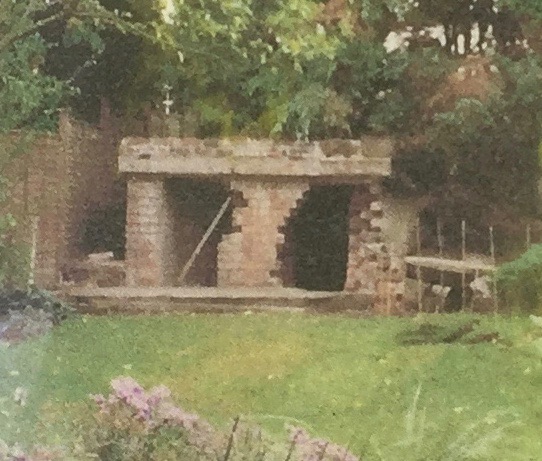 Two Wolverhampton schools
The Wolverhampton Archaeology Group produced this fascinating and detailed report about shelters at St Luke's and Warstones schools.