Putting it together
The Home Office issued these 'Directions for the erection and sinking of the galvanised corrugated steel shelter' in February 1939.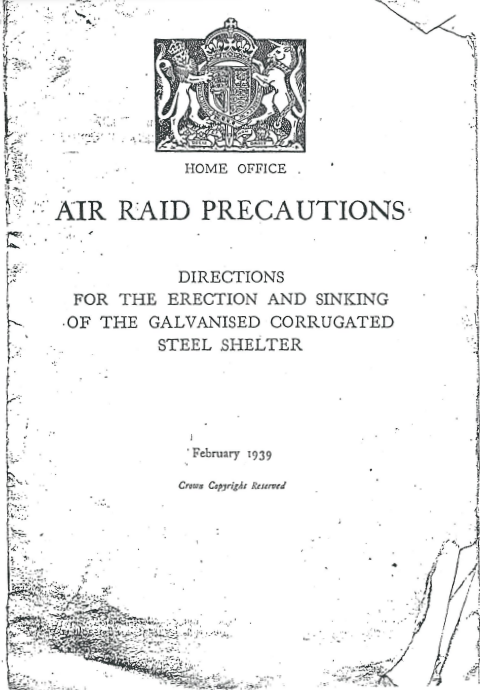 Construction involved a great deal of digging in order the for the shelter to be semi-submerged in the ground.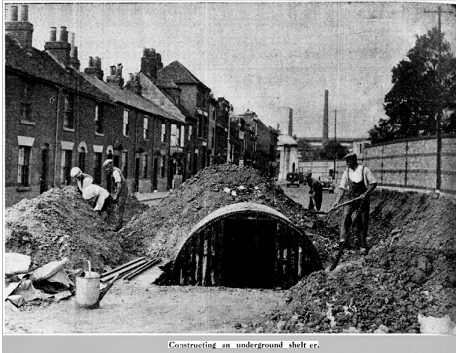 Although the 14 gauge (2mm) steel was relatively thick and very strong, a major weakness was the doorway. Householders were expected to provide their own wooden doors or else build something more substantial like this.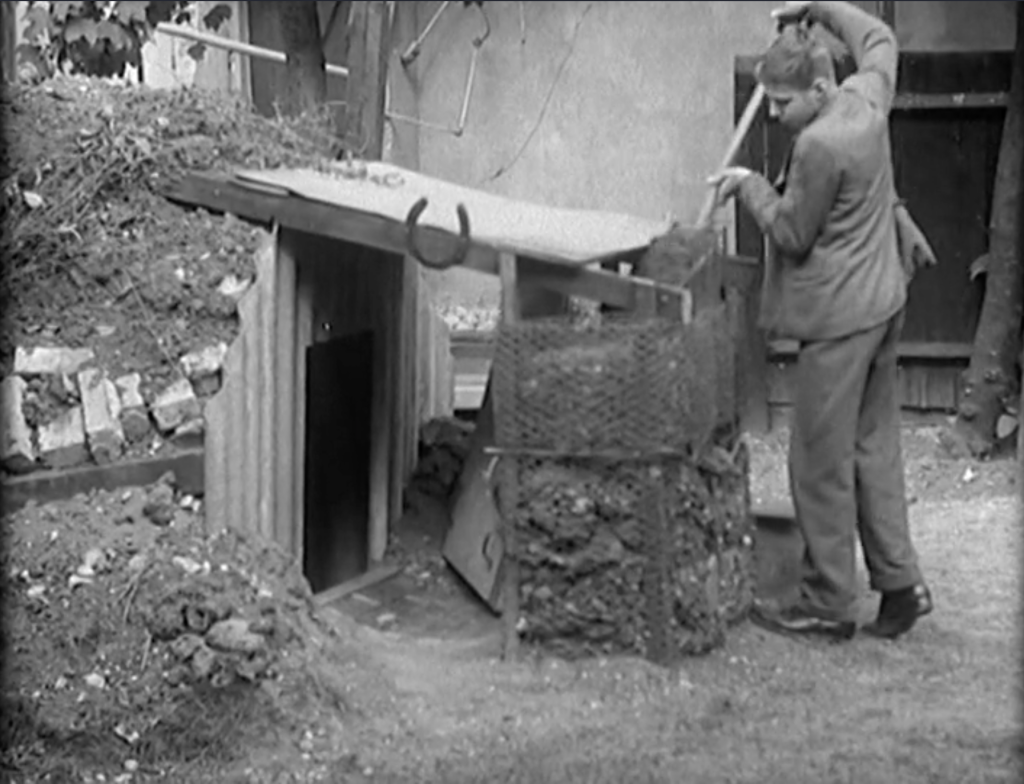 Every shelter kit included the bolts required to assemble it and a spanner-tommy bar to tighten them with. The face-to-face width of the bolt heads was around 2.25cm – just under an inch.
After construction, the spanner was kept in the shelter in case it were needed to loosen the clip bolts at the back of the shelter, and so create an emergency exit if the main door was blocked by bomb debris.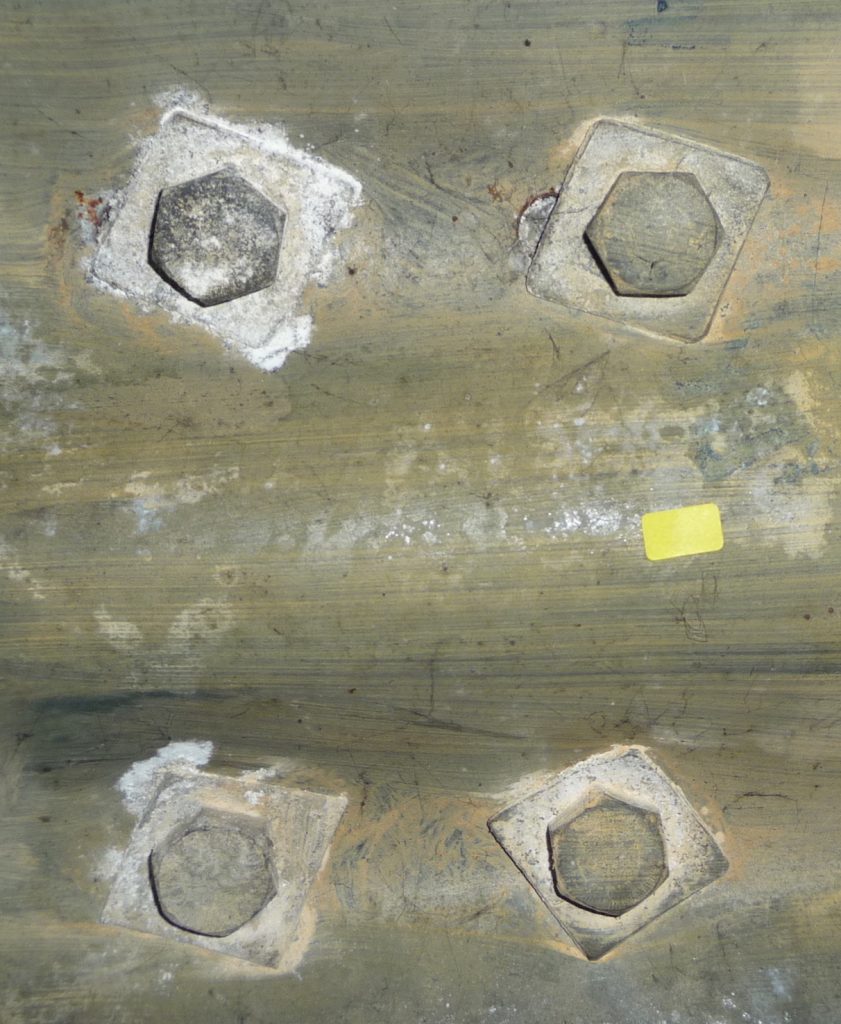 Some shelters had a rather better spanner. Al Manton kindly sent me photos of a swivelling box spanner that he found in an Anderson shelter on his allotment. He notes:
It is not a scaffolder's spanner. The box section is stamped 1/2″ W & 7/16″ W & both sizes correspond with the original 1 1/2″ long Whitworth nuts & bolts supplied to fit the shelter together. It has the podging end for aligning sheets, and the advantage when fitted on the bolt hexagon inside the shelter that it can be easily rotated without snagging on the corrugations.

These double ended spanners were issued during the 'phoney war' but were soon superseded as the sheer cost and quantity of spanners required later led to the introduction of the cheaper-to-manufacture open-ended rat tail spanner.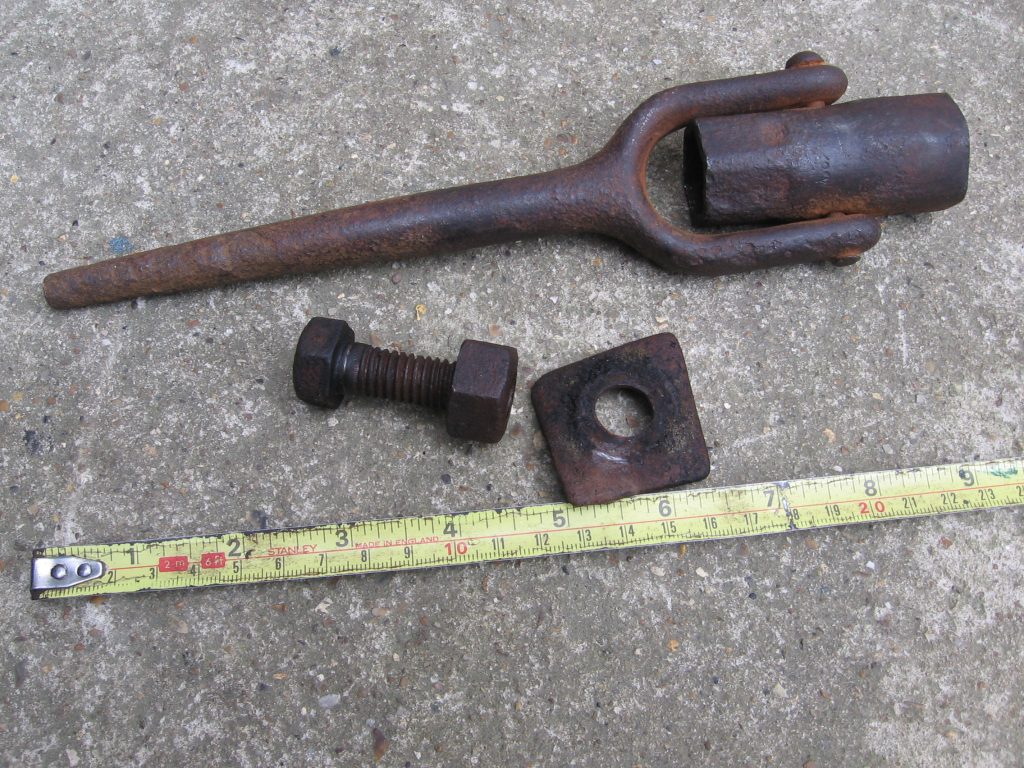 Somewhere to sleep
Many families followed government advice to build bunk beds for their shelters. Those for adults ran along the sides of the shelters, and the children's ran across the back. They had wooden edges and wire bases – and can't have been at all comfortable, especially as the adult beds were only around 4'6″ long.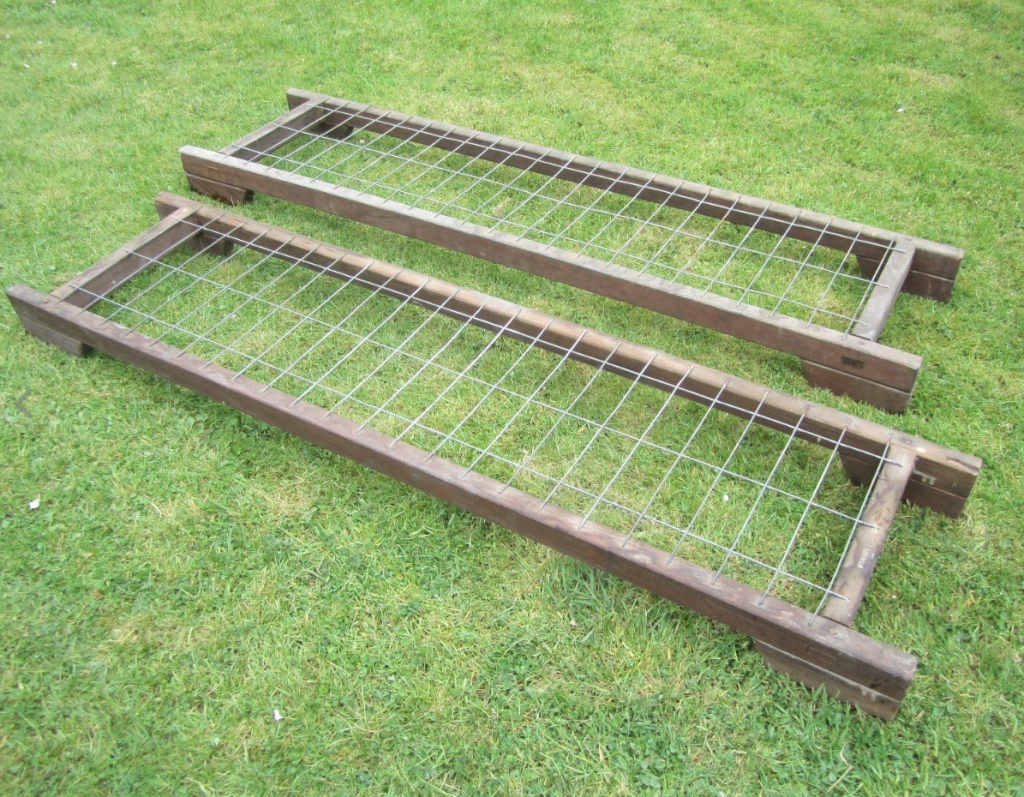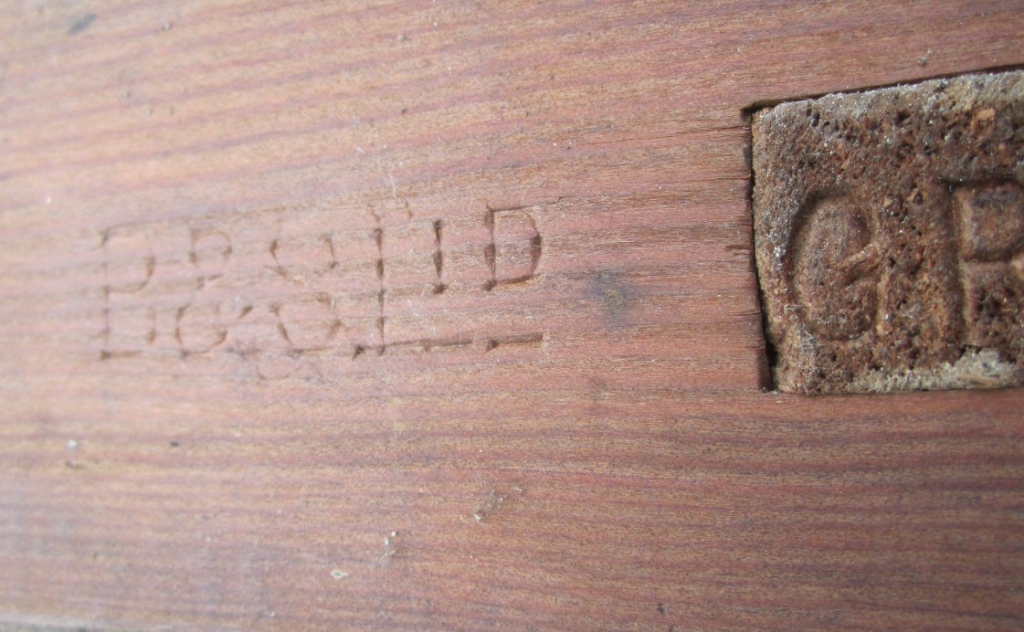 Matt Saunders has recreated a shelter from scratch, and this photo of his shelter shows clearly how the bunk beds slotted into each other. The feet of the four adults were intended to go under the two children's bunks.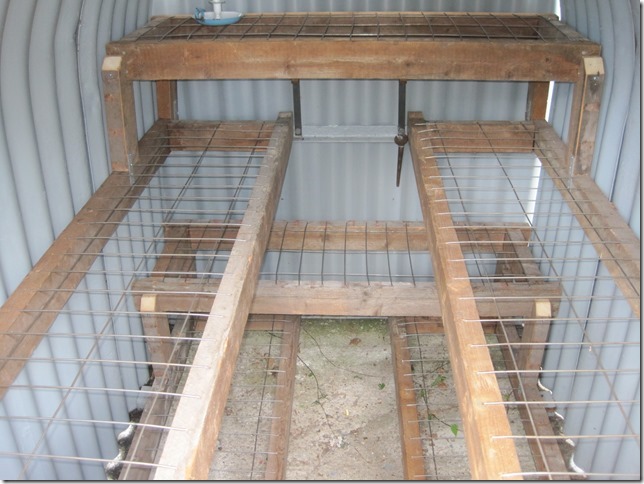 Official advice
The Ministry of Home Security issued official instructions on how to fit beds into your Anderson shelter.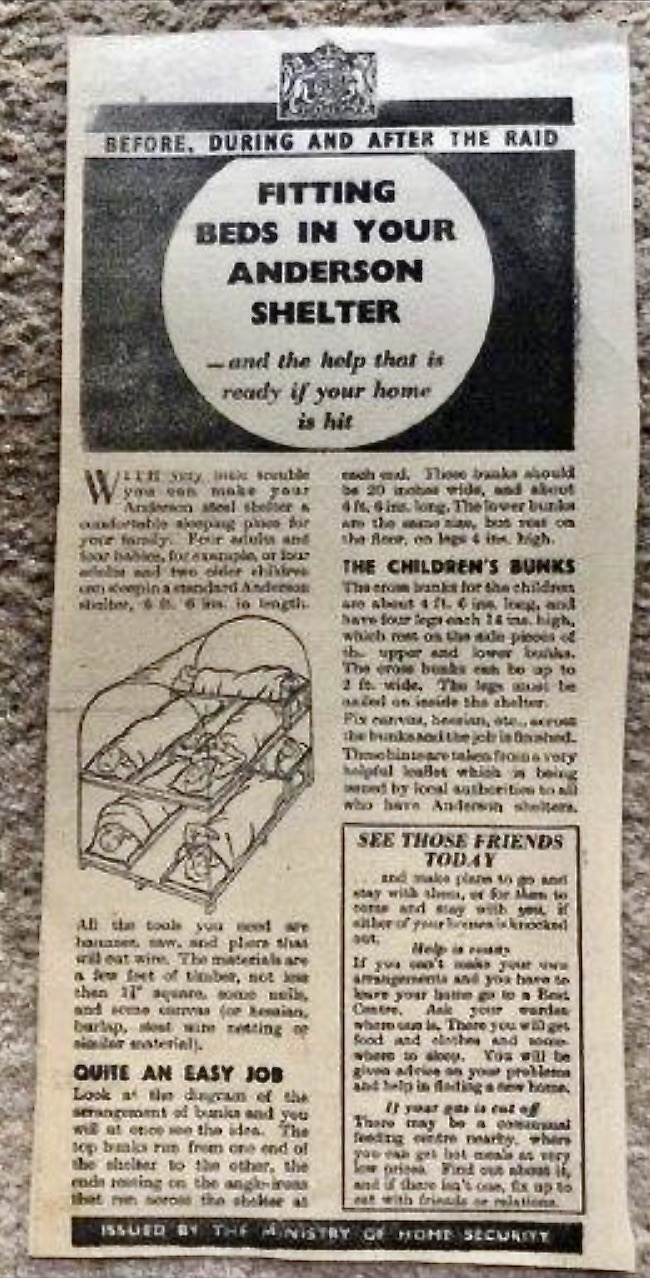 BEFORE, DURING AND AFTER THE RAID
FITTING BEDS IN YOUR ANDERSON SHELTER
…and the help that is ready if your home is hit
With very little trouble you can make your Anderson steel shelter a comfortable sleeping place for your family. Four adults and four babies, for instance, or four adults and two older children can sleep in a standard Anderson shelter 6 ft. 6 ins. in length.
All the tools you need are hammer, saw, and pliers that will cut wire. The materials are a few feet of timber, not less than 1¼" square, some nails and and some canvas (or hessian , burlap, sheet wire netting or similar material).
QUITE AN EASY JOB
Look at the diagram of the arrangement of bunks and you will at once get the idea. The top bunks run from one end of the shelter to the other, the sides resting on the angle-irons that run across the shelter at each end. These bunks should be 20 inches wide and about 4 ft 6 ins. long. The lower bunks are the same size, but rest on the floor on legs 4 ins. high.
THE CHILDREN'S BUNKS
The cross bunks for the children are about 4 ft 4 ins. long, and have four legs each 16(?) ins. high which rest on the side pieces of the upper and lower bunks. The cross bunks can be up to 2 ft. wide. The legs must be added on inside the shelter.
Fix canvas, hessian etc. across the bunks and the job is finished.
These hints are taken from a very helpful leaflet which is being issued by all local authorities to all who have Anderson shelters.
SEE THOSE FRIENDS TODAY
… and make plans to go and stay with them, or for them to come and stay with you, if either of your homes is knocked out.
Help is coming
If you can't make your own arrangements and you have to leave your home go to a Rest Centre. Ask your warden where it is. There you will get food and clothes and somewhere to sleep. You will be given advice on your problems and help in finding a new home.
If your gas is cut off
There may be a communal feeding centre nearby where you can get hot meals at very low prices. Find out about it and if there isn't one, fix up to eat with friends or relations.
ISSUED BY THE MINISTRY OF HOME SECURITY
Purley Council offered this advice: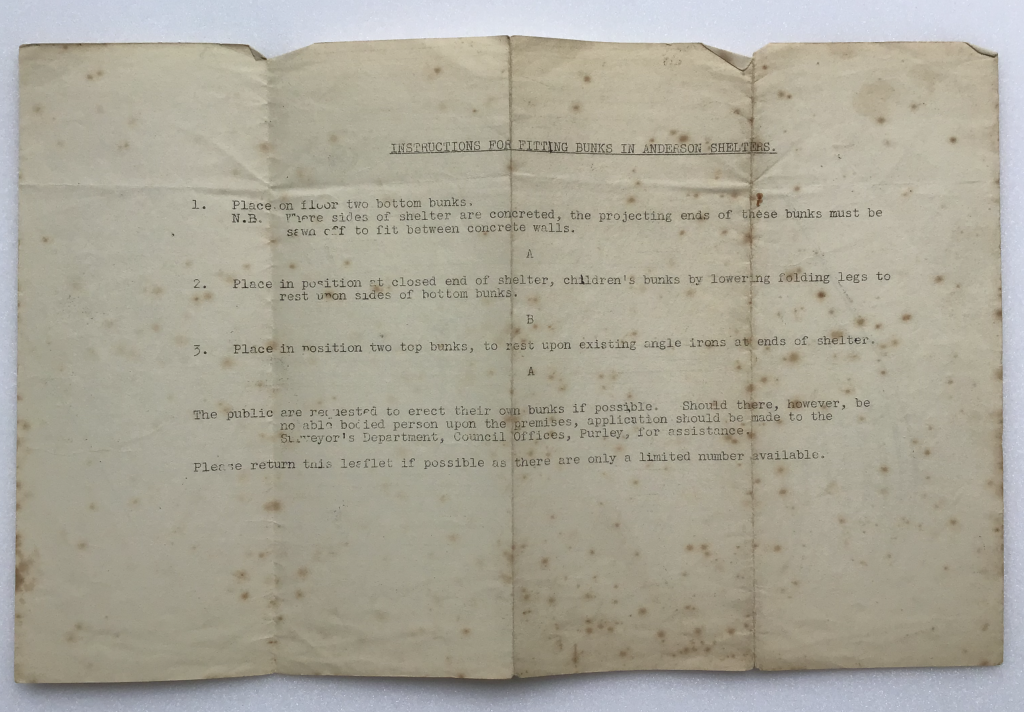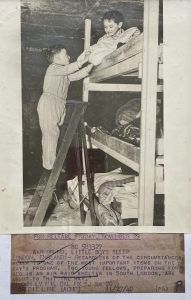 This government (?) press release photo is dated 11/27/40 – the US format. Perhaps it was for the US newspapers.
It reads:
WAR OR NO, LITTLE BOYS SLEEP

LONDON, ENGLAND:- REGARDLESS OF THE CIRCUMSTANCES, SLEEP IS ONE OF THE MOST IMPORTANT ITEMS ON THE DAY'S PROGRAM. TWO YOUNG FELLOWS, PREPARING FOR BED IN AN AIR RAID SHELTER IN SOUTH LONDON, ARE ABOUT TO "HIT THE HAY."
Binns bunk beds
This bunk bed was advertised for sale by Binns Department Store, Middlesbrough in 1940. The cost was 49/6 – 49 shillings and sixpence or 2 pounds, 9 shillings and sixpence (£2.48 in decimal currency).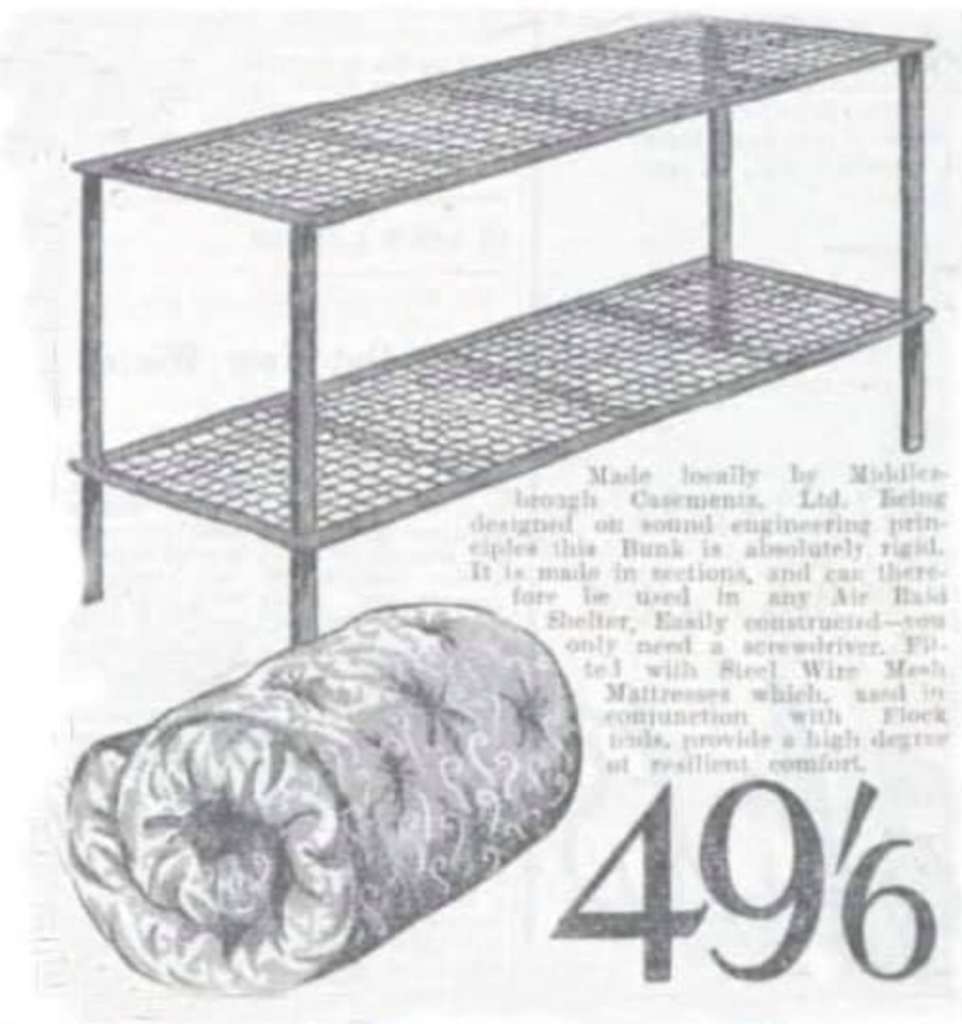 The text reads:
Made locally by Middlesbrough Casements Ltd. Being designed on sound engineering principles this Bunk is absolutely right. It is made in sections and can therefore be used in any Air Raid Shelter. Easily constructed – you only need a screwdriver. Fitted with Steel Wire Mesh mattresses which, used in conjunction with Flock bolster provide a high degree of resilient comfort.
Sunderland-based Binns were taken over by House of Fraser in 1953 but continued to operate as a separate chain in the North East of England until losing its separate identity in 2006.