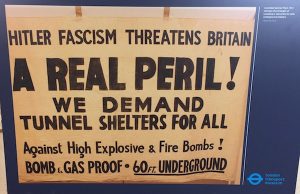 The 1940 Blitz – and the consequent pressure to allow people to use tube stations for shelter – jolted the Government into authorising the construction of 10 deep shelters, each holding 8,000 people.
Two were not completed – at St Paul's because of concern that construction would damage the cathedral, and at Oval Tube Station because of flooding. The ventilation shaft at the Oval is now used as the emergency staircase.
The other eight were at Belsize Park, Camden Town, Goodge Street, Chancery Lane, Stockwell, Clapham North, Clapham Common and Clapham South. All are on the Northern line apart from Chancery Lane which is on the Central line.
Each shelter was built in tunnels very similar to the existing Tube tunnels. Each consisted of shelters on two levels, each containing two parallel tubes – so making four tubes in total – all running underneath the existing Tube lines. (In a clever piece of planning, it was hoped that the Northern Line tunnels might one day be used to run a new express tube line from Balham to Kennington, calling only at one of the Clapham stations.)
Each tube/shelter was 400 metres long divided into four areas, each capable of accommodating 500 people. All were deep underground – Clapham South is 37 metres down.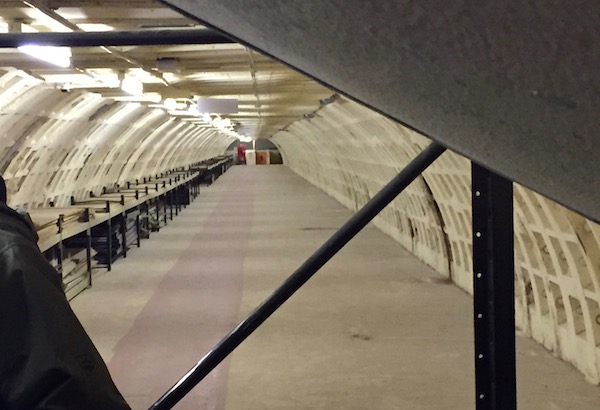 It took around two years to complete the shelters by which time they were not needed until V1 and V2 bombs started raining down. Even then, they were not much used, never operating at more than one-third of capacity.
After the war they were used as very cheap hotels, being used by school groups visiting the Festival of Britain, for instance. The Clapham South shelter was used for a few weeks by some of those arriving from Jamaica on the Festival Windrush. Their nearest Job Centre was in Brixton, which is why so many West Indians then settled in that area.
For many years from 1956 the shelters were used for secure storage. Two (Goodge Street and Stockwell) are still used for that purpose, and salad crops are grown hydroponically at Clapham North and Clapham Common. Clapham South is occasionally opened to the public by London Transport, and may one day be opened as a museum.
Interesting fact: The Central Line in East London – under construction as the war began – was temporarily used as a munitions factory. Here is a 2017 Tweet from the London Transport Museum: