There is a remarkable area of woodland just to the east of Halstead High Street in Essex which contains natural springs, a Victorian garden and a rare group of fifteen underground World War II air raid shelters.  They may have been Stanton Shelters installed by Courtaulds in 1939 to protect their workforce from the Luftwaffe.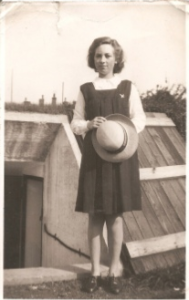 The factory employed around 1,000 during the war, some of whom were involved in weaving artificial silk for parachutes. Many lived in Courtaulds-provided houses, two terraces of which still stand on Factory Lane East, right next to the shelters. The schoolgirl pictured here lived in one of the houses, and is seen standing next to the entrance to one of the shelters, which her family would use if there was an air raid at night.
The semi-sunken shelters were built by Costains from pre-formed concrete arches, and designed to hold up to 50 people. A separate strong brick shelter, which still stands on the surface, had several uses including as a first aid centre, a communications centre and an ARP Warden's post.