Thinking of repairing, refurbishing or rebuilding an Anderson shelter? If you have basic practical skills, it's not particularly difficult. Many have done it, as you'll find out on this page. And of course, many households built their own shelters during the war using these 'Directions for the erection and sinking of the galvanised corrugated steel shelter'.
The corrugated iron
The corrugated iron used in Anderson Shelters was a significantly heavier gauge than that manufactured today – around 2mm thick compared to the current standard of 0.7mm. You can occasionally come across it on eBay or Gumtree. The metal is heavy. Individual pieces can usually be carried by one person – but two is better. Do check dimensions and weights before committing to a long journey. Or you could use corrugated plastic (see further below).
Or Tinman Steels will build a new shelter for you like this one they built for a school.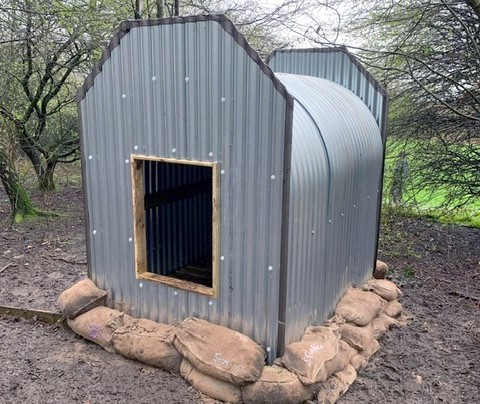 Painting
Because galvanised steel is clever stuff which naturally resists rusting it usually does not need to be painted. But if you do want to paint it then we have been recommended Hammerite Special Metals Primer, followed by Hammerite Metal Paint. Important note:- Although the Hammerite paint is said to be direct to rust, this doesn't apply to galvanised surfaces which need to be primed first.
Entrances
The shelters were not fitted with doors as that would have made them very claustrophobic. But some householders fitted wooden surrounds of their own simple design to the otherwise sharp edges of the entrance panels.
Official Advice
The official wartime Directions for the Erection and Sinking of the Galvanised Corrugated Steel Shelter are quite comprehensive and – I'm told – are easy to follow if you have a practical nature. P
Some reconstruction examples
Biggin Hill
There's an interesting and detailed case study about the rebuilding of a shelter in Biggin Hill here: bigginhill-history.co.uk/shelterrebuild.htm
Edinburgh
Joe McGuigan has kindly shared his experience of rebuilding an Edinburgh shelter which had been redeployed as a garden shed or coal bunker next to a post-war prefab:
My father and I got it dismantled (eventually). The bolts were incredibly stiff so it took several hours to get them all undone! I have managed to save all of the washers. And all of the nuts and bolts except two – which were too badly corroded and had to be sawn off unfortunately. I am now in the process of cleaning them up.

The panels of the shelter vary in conditions. Some of them are not too bad, where others are heavily rusted and in some parts are rusted away at the bottom.

I have currently started grinding away the rust – I will then apply a rust inhibitor and then the undercoat and paint. With the holes, I was thinking the best way would be to fill them with a kind of car filler/cold weld putty supported by a fine mesh.

I am also planning on joining the corroded away bottom sections to new sections with a weld putty – whether this will hold or not I am unsure.
Here are some photos taken when Joe was dismantling the old shelter.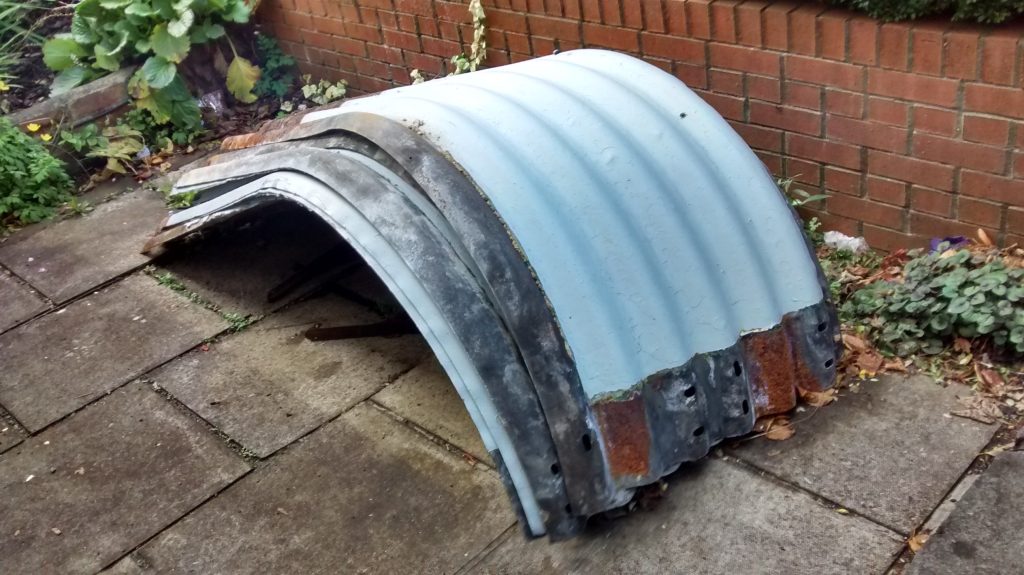 Spirit of the Homefront
Spirit of the Homefront is an enterprising group of enthusiasts which acquired eight sections of corrugated iron from Sussex (180 miles away) and six from the West Midlands (5 miles away). They then:
made straight sections out of two curved sections cut, bolted and welded together
used hooks and eyes to attach front and back sections
put wooden planks on the floor
attached a shelf to escape panel handles
hinged the front lower section for access
painted it all oxide battleship grey
covered it over with artificial turf
They made it so it can be taken down and transported, and are now showing it at schools and 1940s events.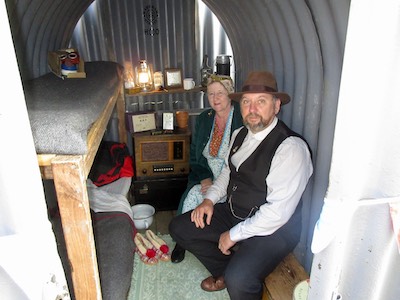 Essex
Adam Hitchin built this replica shelter out of corrugated plastic for the lucky pupils of Takeley Primary School in Essex.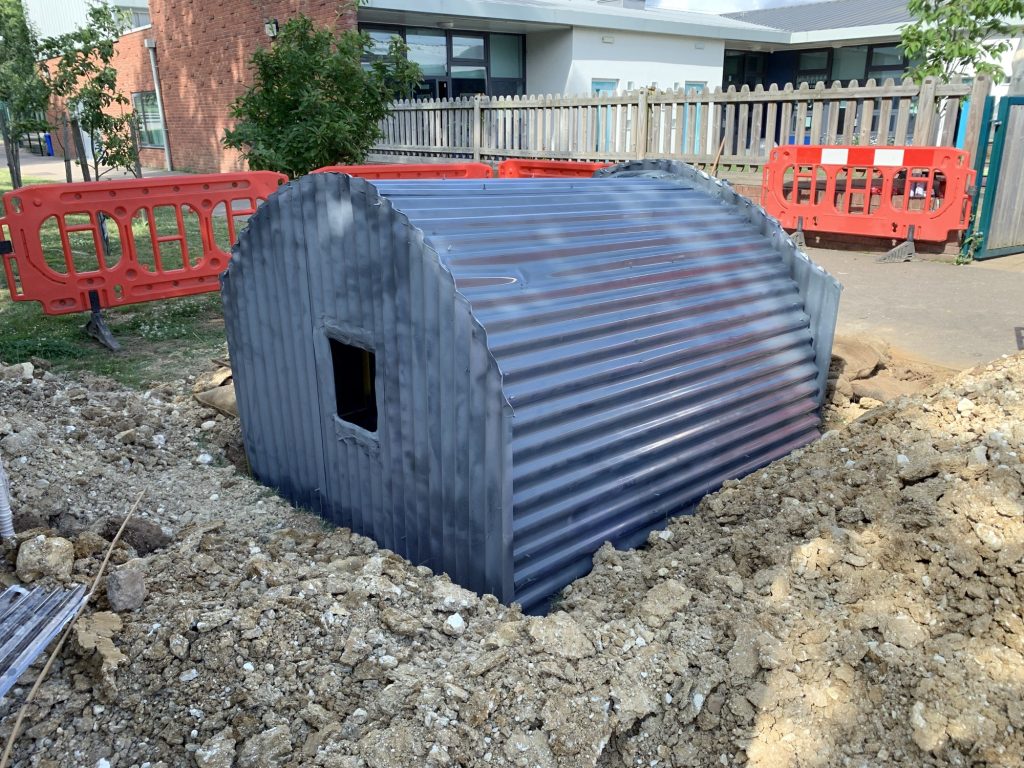 Faversham
A restored shelter in Faversham, together with a shelter heater and a restored air raid siren.